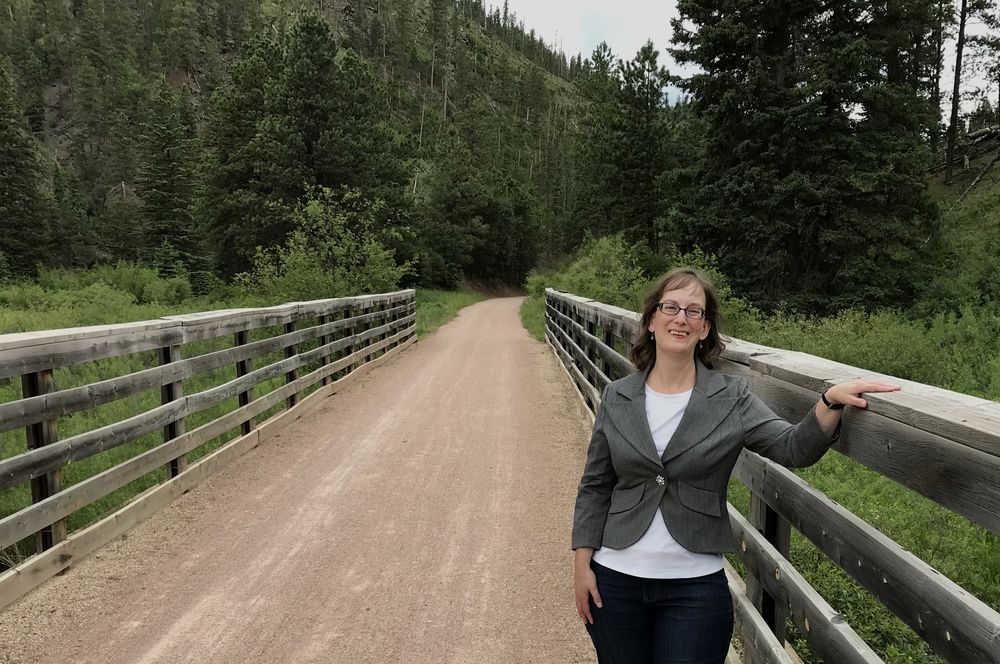 My story...
Having completed a Doctor of Arts in clarinet performance at the University of Northern Colorado, Nancy Williams is teaching, performing, and composing in Rapid City, SD.  Additional degrees include a Bachelor of Music Education from South Dakota State University as a Briggs Scholar and a Master of Music from the University of Missouri – Columbia.  A music educator for over twenty years, Williams has held faculty positions at Northwestern, Dordt, and Sioux Falls Colleges.  She is currently teaching at Chadron State College.
Williams is an active solo artist and chamber musician, performing most recently as a soloist at the International Clarinet Association ClarinetFest, International Music by Women Festival, Wayne State College and Carpe Clarinet Day.  She's played with orchestras such as the South Dakota Symphony Orchestra and San Diego Ballet. Additionally, Williams is a founding member of the West Wind Quintet, Clarinet Madness Clarinet Choir, Clarinet Quartattitude, and Calumet Clarinet Duo.  An advocate of new music, she has a history of commissioning and premiering original works, including William F. Funk's "Grenadille du Trisque," Kyle Angley's "Katabasis," Kristin Parrish's "Clarity for Madness," and Joseph Scardetta's "Clarinophony."  Chamber music premieres highlighting Williams's versatile style include Myles Wright's "Two Folk Songs" and William F. Funk's "Triangle," while she has received commissions for her own compositions from the Sioux Falls Municipal Band and Black Hills Balinese Gamelan Raga Garnita. Furthermore, her jazz career includes performing with the Temptations and Four Tops as well as regional big bands.  
Chosen to present her research "A Clarinetist's Guide to Solo Eighteenth-Century Ornamentation" at the International Clarinet Association Conference (2017) and invited to perform her lecture recital "Woodwind Improvisatory Techniques of the Classical Era" at the American Single Reed Summit (2018), she published her pedagogical method book on Classical improvisation, Woodwind Improvisatory Techniques of the Classical Era: A Pedagogy Method, in November of 2021 to rave reviews. A brief summary of her book, "Cadenzas, Eingange, and More: Improvisation in the Classical Era" was presented by Dr. Williams at the 2022 International Clarinetfest in Reno, NV.  She's currently working on a performance and recording project in the Denver area after having been awarded the South Dakota Artist Fellowship Grant.
Once upon a time, I was everyone's favorite temp...
How does a musician become a leadership and life coach for professionals?
It's actually not as big of a leap as you would think...
I went into music to inspire awareness and empowerment so that others could be positive agents of change in the world. 
Recently I've felt that I have more to give, and I've been looking for a way to use my abilities to reach a broader audience
and create more positive impact in the world.  
When I was working at various businesses through a temping agency to make extra money while building my music studio,
I realized that the skills I'd developed as a musician and teacher transferred powerfully into the business world and could help my fellow creatives with self-leadership.    
All that practicing had created neural networks that functioned more efficiently, as well as enhanced my abilities of forethought and planning.  
Performing in music ensembles taught me to notice and value my contributions to the group, while setting my ego aside.  
Empathy, discipline, and awareness are cornerstone characteristics for any successful musician.  
As a music educator, I'd learned the importance and nuances of communication while working with students and educating audiences, as well as creating an inclusive and welcoming environment. 
Through music, I'd learned to enjoy the journey and detach myself from outcomes.  
As a result, I was everyone's favorite temp!  I was often offered a full-time job within hours or days of starting a new assignment.  
With over twenty years of creating cultures of excellence in the music world, I realize the value of environments built on a vision of empowerment and awareness. I've implemented the same strategies of culture-creating that I'd done in my business and ensembles
to evolve my own professional life into a renewed journey of joy and inspiration as a Leadership Coach for creatives.  
I now help creatives build cultures of joy and empowerment, but my mission has remained the same:  
to inspire awareness and empowerment so that others could be positive agents of change in the world. 
Schedule a no-strings-attached complimentary consultation with me today so that we can discuss how you can create a more joyful and empowered career for you!